home | publicity photos | NEW publicity photos | production photos | studio headshots | contact FrostlineTheatrical Graphics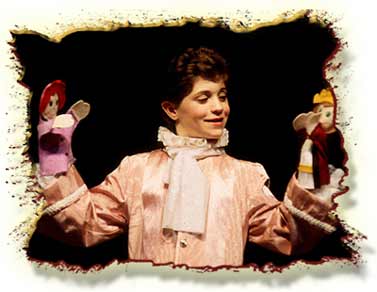 WHAT IS FROSTLINE THEATRICAL GRAPHICS?
Frostline Theatrical Graphics is a benevolent theatrical photographic agency based in Anchorage, Alaska. We specialize in publicity and production photos, as well as in professional studio headshots for use in theater lobbies or for theatrical programs, posters and pamphlets .
Frostline Theatrical Graphics is benevolent because (believe it or not!)..... we do not charge theater companies for our services or products. Providing free photographs is our way of contributing to the arts in Anchorage, Should individual actors want additional copies, however, there is a nominal charge of $10.00 per 8 x 10 inch print to defray the cost of materials — and no sitting fee. Commercial portraits of similar (or lesser) quality can easily cost $100.00 each, or more.
Frostline Theatrical Graphics has provided services to the following Anchorage production companies:
• Anchorage Community Theatre (ACT)
• Alaska Theatre of Youth (ATY)
• Anchorage Opera
• Eccentric Theatre Company (ETC)
• Kokopelli Theatre Company
• Out North Theatre Company
• Perseverance Theatre*
• University of Alaska Department of Theatre and Dance
• Atheneum School
• Goldenview Middle School
• Pacific Northern Academy
• Anchorage Concert Association


*Perseverance Theatre is in Juneau, Alaska.
We have solid, businesslike contacts with both the Anchorage Daily News, the Anchorage Press and The Anchorage Chronicle, and know how to work within their deadlines. We cannot guarantee pictures of your production will be featured, as that is up to their editors, but our work frequently appears on their pages.
OUR SERVICES
Frostline Theatrical Graphics provides publicity photos, production photos and studio headshots.
Publicity photos are generally taken about 10-14 days before the opening of your production, to allow proper lead times for the three Anchorage newspapers. Generally, costumes and sets are not complete, so the director must set up a few good scenes, using costumes available and those parts of the set that are complete, or almost complete. Frostline submits the images directly to the newsapers on CD-ROM discs.

Production photos can be taken in one of two ways. (1) We can photograph the entire production during the dress rehearsal -- from the seats -- or, (2) the director can set up all the desired scenes after a performance, and the shots are taken from the stage itself. Each method has its advantages and disadvantages, which the Frostline photographer will be happy to discuss with you. The director is given a Macintosh/PC CD-ROM disc of all the photos.

Studio headshots are taken at the Frostline Studios in South Anchorage, on a walk-in basis, usually from 10 AM - 2 PM on a designated Saturday/Sunday. The director will receive a professional 8" x 10" black-and white (or color) headshot of each member of the cast as well as a CD-ROM disc of high-resolution images. Generally, photos are also taken of the director, stage manager, costume and scenic designers, lighting designer, and so forth — at the discretion of the director.
As we use no flash or auxiliary lighting, but only the stage lighting for each scene being photographed, full dramatic effect is achieved. For examples of each kind of photo, please follow the links below. Be patient while they load: good-quality photos are large files, and take time!
If you would like to engage Frostline Theatrical Graphics to document and publicize your production, just click HERE. We require at least two weeks' notice to arrange a shoot, so plan ahead!
* * * * *


home | publicity photos | NEW publicity photos | production photos | studio headshots | contact FrostlineTheatrical Graphics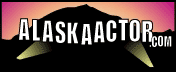 AlaskaActor.com is the online community for Alaskan actors
and the centralized location for the casting of Alaskan talent.